Community Crunch 208: Mysterious Mysteries and On The Horizon
Mysterious Mysteries: Introducing ????
How perplexing, who can guess what this might be?
---
On The Horizon
Turkey Trial 3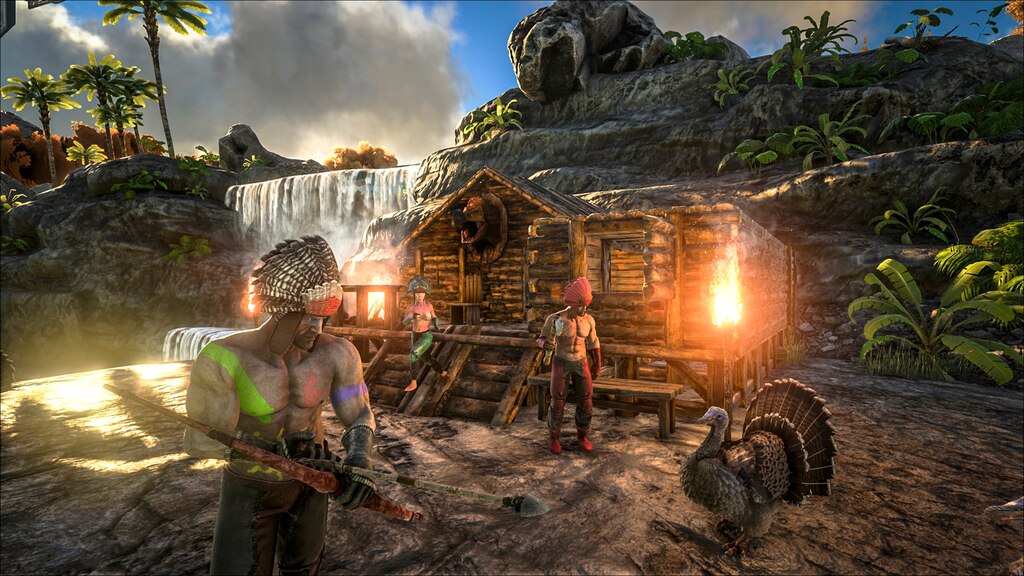 Log on and grab your Turkey Trial items before the event ends on December 3rd.  See below for details on the event.
Black Friday Sale
Get started on Black Friday with up to 65%# off on ARK.  
Balance and Quality-Of-Life Updates
We'll be prioritizing some balance and quality of life changes that have been requested by the community.  Examples of some of these changes can be seen in PC patch 302.4 (notes below).
Quote

Added animation staggering system by default to reduce CPU overhead -- dinos in the far-distance will update their animations on alternate frames. Players can disable in this in the Options Menu "Advanced Options" Tab: "Animation Staggering" (enables it at all at far distance) and "Low Quality Animations" (makes it more aggressive, lowers the distance at which staggering is used)
Improved client and server CPU performance in various ways
Vastly improved server stability, with various Network Channel threading crashes fixed
Changed droppeditem physics back to client-side prediction for player-dropped items, and physx-sleeping logic on droppeditems to improve server performance.
Improved droppeditem placement when dropping items from structures, to reduce the possibility of them getting stuck
Reloading bows from prone TPV no longer gets them stuck
Firing bows while in orbit camera no longer gets them stuck
Firing bows while running no longer gets them stuck
Made it easier to look at items to pick them up
Fixed the whip to properly pickup items that are flat on the ground (previously would miss such items)
Added "F" alternate activate option on items to pickup all items in a nearby range
Added optional new functionality to limit the number of droppeditems in an area, and enabled it on dedicated servers. To use it on unofficial servers, add the following INI values to your server's Game.ini ShooterGameMode section (> 0 to use the limit):
Please continue to voice your feedback on what you'd like to see through our various platforms!
---
EVO Event
There will be no EVO event rates while the Turkey Trial event rates are active!
Until next time!
Twitter: twitter.com/survivetheark
Facebook: facebook.com/survivetheark
Reddit: reddit.com/r/playark
Instagram: instagram.com/survivetheark
Twitch: twitch.tv/survivetheark
Steam: steamcommunity.com/app/346110
Youtube: youtube.com/survivetheark
Edited by Cedric
---
1