April Survivor League Winners, SotF Update & Community Crunch 44!
Congratulations to all the winners who placed in our first Survivor League ever! It's been an exciting time for ARK SotF players and we saw a wide variety of strategy used. Emotions ran high and the final list of players we have ended with are as follows;
They have earned a place in the Survivor League archive as well as their share of $64,800 in cash! The prizes are broken down as such:
1st Place: $3500
2nd Place: $2500
3rd Place: $1800
4th Place: $1650
5th Place: $1500
6th Place: $1350
7th Place: $1200
8th Place: $1050
9th Place: $900
10th Place: $750
We'll be reaching out to the winners over the coming days to collect the information required to get your prizes sent out to you! Look out for contact made by Jat! In the case where players share the same score but different rank, both will be awarded with the higher-cash prize. So in this case, both Cirar - Frittest Mayo and PedroSaltana[Ralph] will receive the prize for first place and then it will skip to Sr. Dinch in third place. So yes, the prize pool will be higher this month!
Upcoming changes made to SotF and Survivor League
Survivor League will officially go on halt until May the 1st 2016 where we'll begin the next round of games. This will include a soft-reset which will not affect your wins, but your other stats so your progress towards the Giga will be kept in-tact!
We will be making further changes to Survivor League which will be announced fairly soon, those changes will in-fact not take place until June's Survivor League to adhere to our 30-day policy.
We will also be introducing Blind Matchmaking to the game within the next few days, we will use the period from now until the 1st of May to heavily iterate on it and make any changes that are necessary to matchmaking, as well as possible adjustments to how Scores are calculated for matches, to ensure that skilful players are being rewarded sufficiently for demonstrating their ability as the Fittest Survivors.
We are also super excited to announce that shortly we will be introducing Grappling Hooks to Survival of the Fittest! We are eager to see the new game play mechanics that this will bring into the game and how players will make use of this new form of maneuverability during combat.
With the excitement of future tournaments, our main-game mode designed around tournament-play will be receiving a graphical overhaul as well as a rename. 6-Player mode will now be known as Tournament Mode and it will automatically enable and enforce higher-graphical settings to make the game more competitive. These settings will be also used during our upcoming Official Tournaments, so players will now be able to get closer to a high-end competitive-experience when playing matches of this type. We want to ensure that you guys are able to train in the environments that you will compete in so we will attempt to recreate the exact Official Tournament specifications as much as possible, starting with this change.
Disqualification, Sportsmanship and the future of Survival of the Fittest
Over the past few weeks we have had a lot of reports concerning the sportsmanship and behaviour of players in Survival of the Fittest throughout the community. We understand that in the heat of the competition, emotions can get the best of us. We would like to remind all players to ensure that they have respect for each other during the games, you do not have to enjoy the company of the people you're playing against, however there is no need to hurl verbal insults or harass members of the community, one which you're a part of. We would like to make it clear that in future circumstances, players found showing a poor sense of sportsmanship may risk being banned from Survival of the Fittest. 
Throughout this first month we have had to disqualify players due to heavy abuse of the matchmaking system when engaging in competitive matches. Players were found to be manipulating lobbies and exploiting the mechanics in an unintended way to gain an unfair advantage over their opponents. As stated in the FAQ, Studio Wildcard holds the authority and discretion to determine what gaining an unfair advantage would be and we will step in if necessary, like we have with this round of Survivor League. Players who were removed from April's rankings will only suffer a one-time reset. They are still permitted to participate in future rounds, as well as tournaments but continuous abuse and manipulation of the system will result in absolute disqualification. We want to harbour a good environment where players are playing at the best and fairly. The game is still growing and it is subject to a lot of change based on these kinds of issues and feedback from the SotF community; with your help we can make sure that we're able to achieve this.
As a free competitive game, the future of Survival of the Fittest lives by this community. For Survival of the Fittest to succeed, we need the community's help by promoting the game, encouraging their friends to play it, helping out new players, giving us solid feedback on how to improve and working with us to make a better game. We really value your commitment and dedication to the game, and we want to ensure that we can make it grow and for Survival of the Fittest to be as special as you all wish it to be. Let's work together to foster a positive community and a great competitive scene!
Thank you everyone for participating in April's Survivor League! The next round of Survivor League will begin on May the 1st and will include the Grappling Hook, Blind Matchmaking and more (Giga...). We're looking forward to seeing all SotF survivors play and continue to refine their strategies, skills, and teamwork!
All the best,
Wildcard Jat and the ARK: Survival of the Fittest Team.
Community Crunch 44!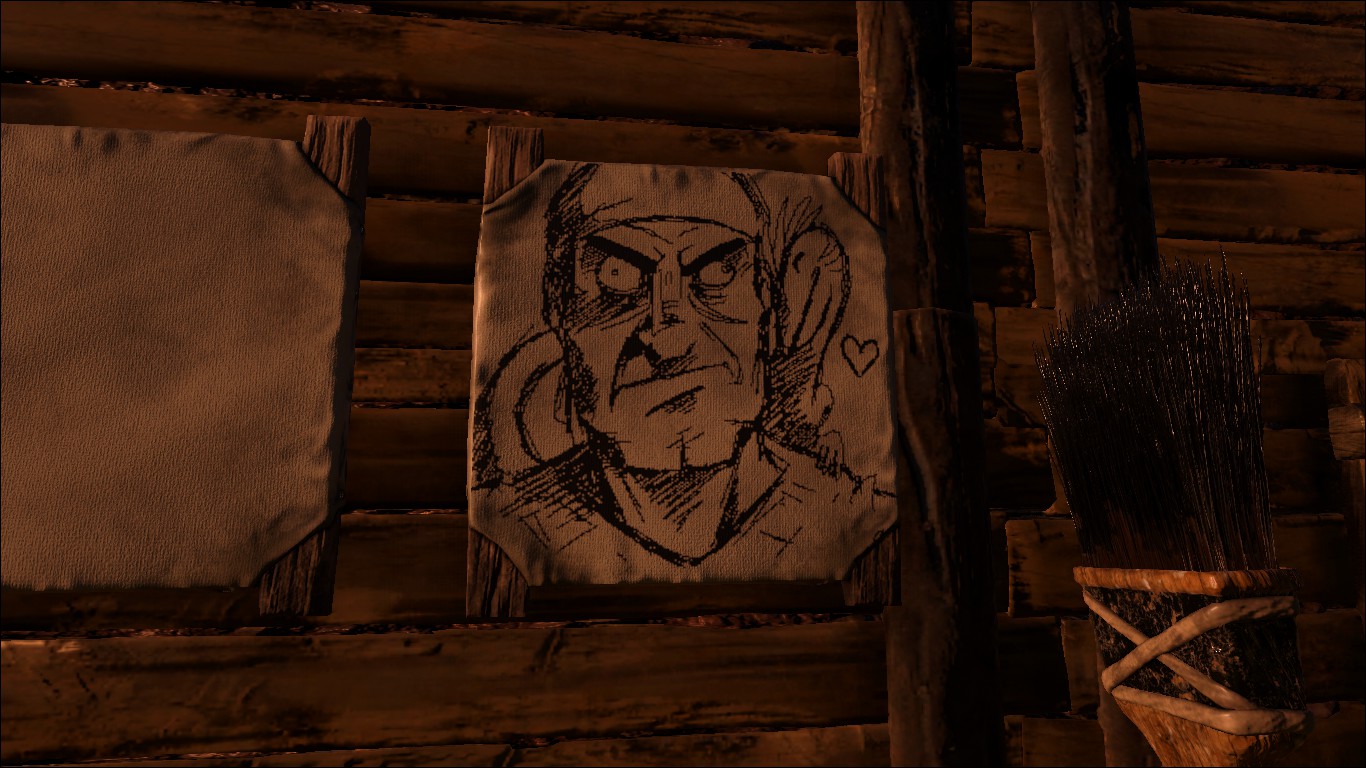 Fan Feature!
Welcome to the 44th issue of the Community Crunch! Still alive and still kicking! Let's see what our fantastic Community have got to share with us this week
BONES? - Ark Moon Survival Cinematic by ThickFreedom
TypeForced 101 ways to win SotF!
Be sure to check out the rest of his SotF series!
Stop art, play Ark, do art by Mightydubz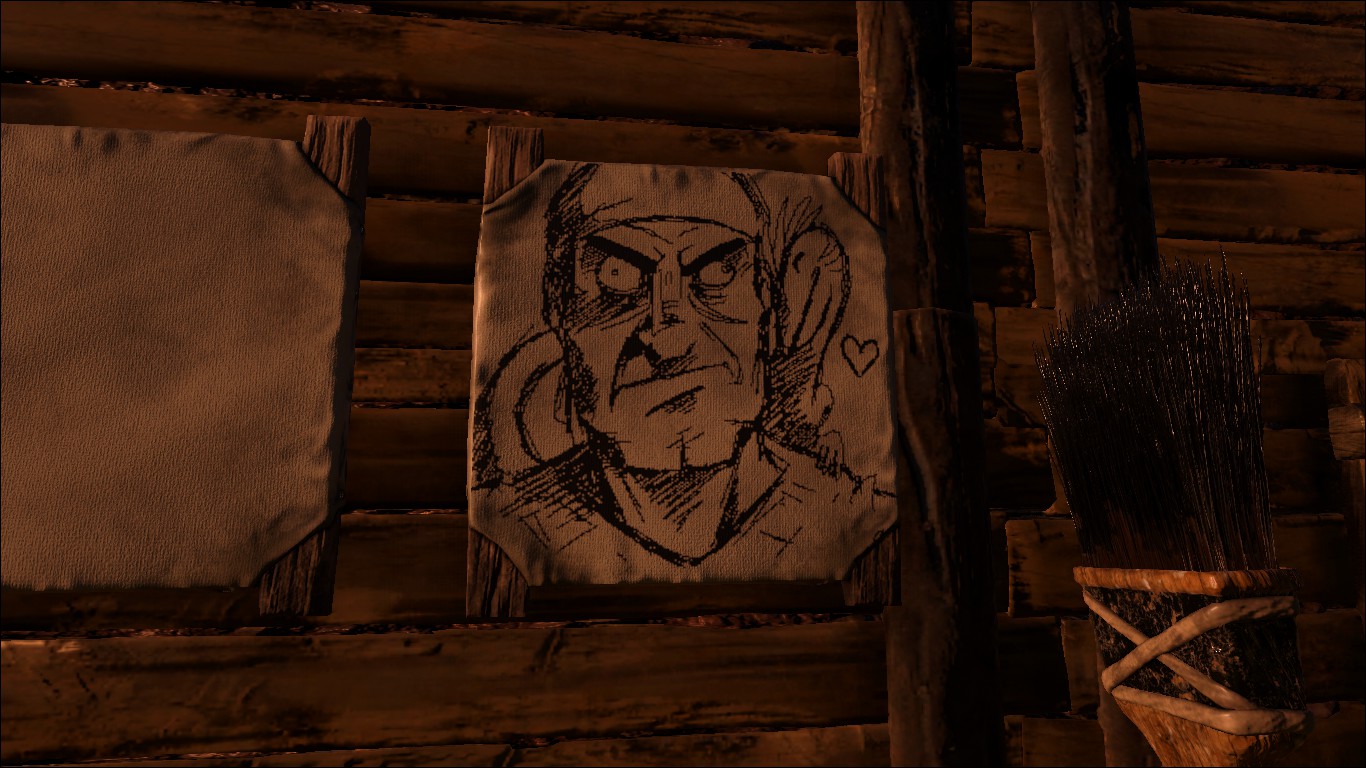 Source: http://steamcommunity.com/sharedfiles/filedetails/?id=657699548
Peacefully Dangerous by Jekzah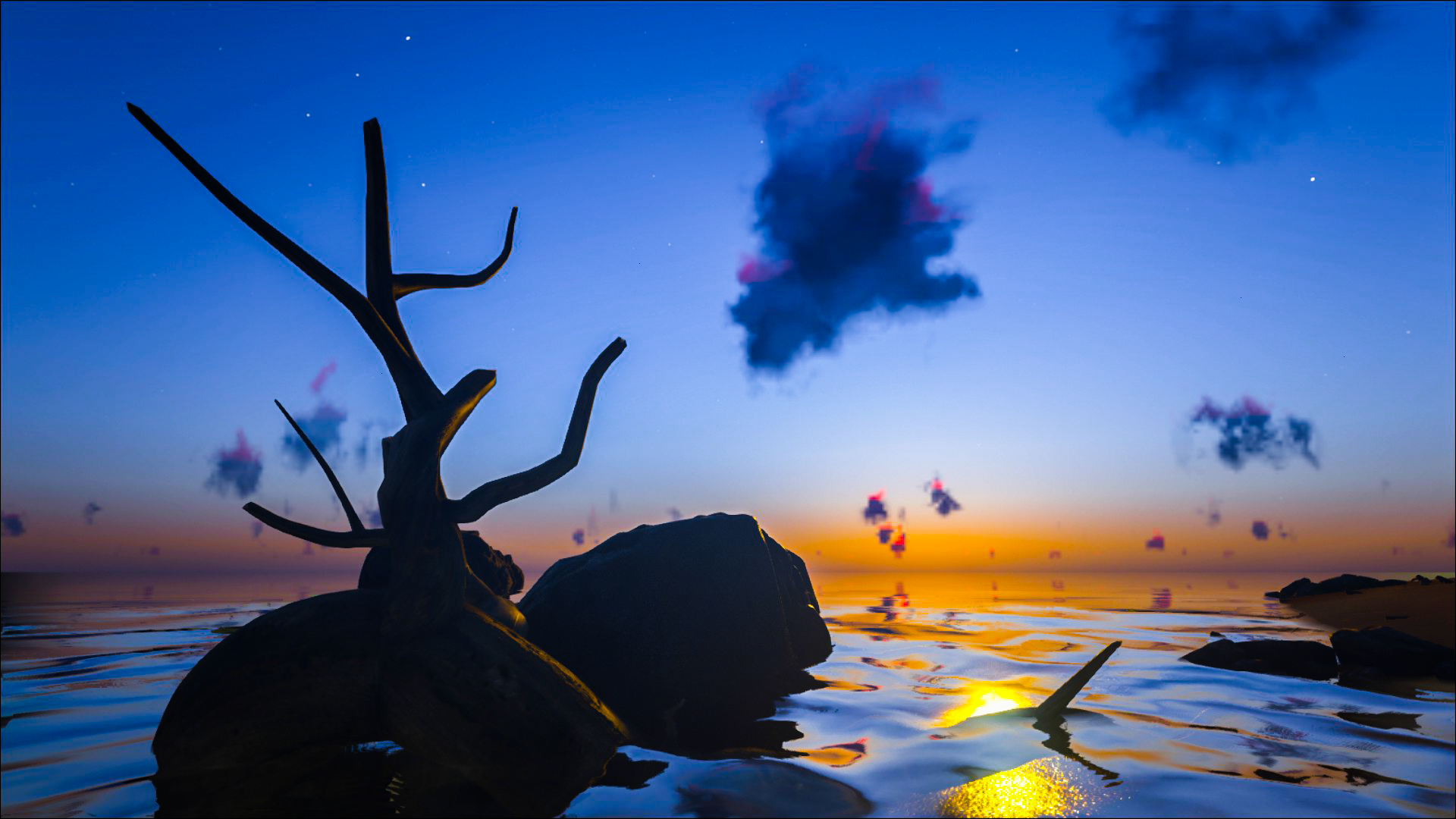 Source: http://steamcommunity.com/sharedfiles/filedetails/?id=657571185
Party at the river by [SGI] Krenko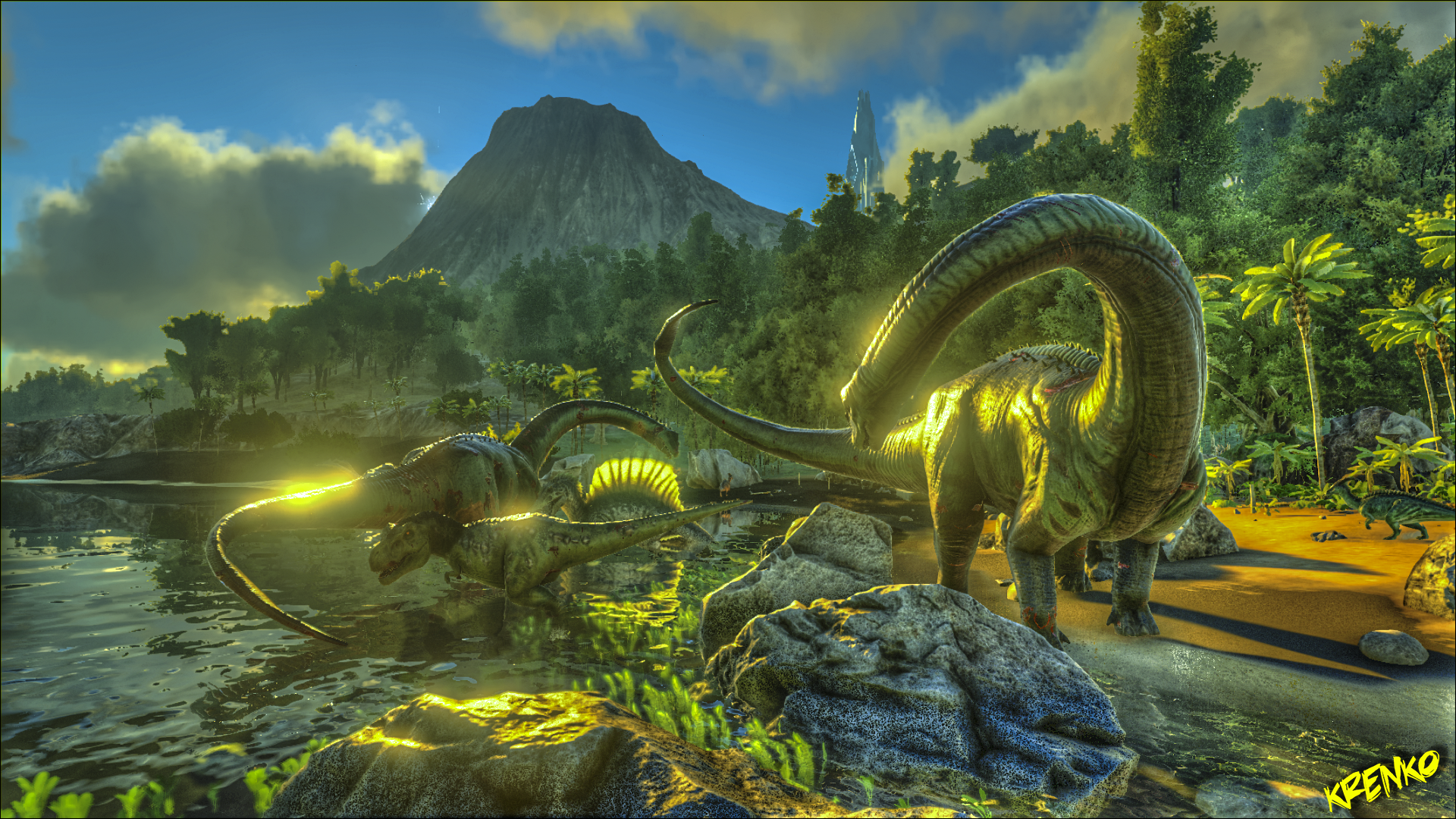 Source: http://steamcommunity.com/sharedfiles/filedetails/?id=659593633
Sam Jones Fighting T-Rex by dinosaurman4
Source: https://survivetheark.com/index.php?/forums/topic/49630-sam-jones-fighting-t-rex/
SamJones in ARK Survival Evolved Started by dinosaurman4
Source: https://survivetheark.com/index.php?/forums/topic/49106-samjones-in-ark-survival-evolved/
Ho-oH by DukeAbobora
Source: https://survivetheark.com/index.php?/gallery/image/5328-ho-oh/
Fanmade Dossier: Irritator Dossier Special 10th DOSSIER! by Davey Jones!!!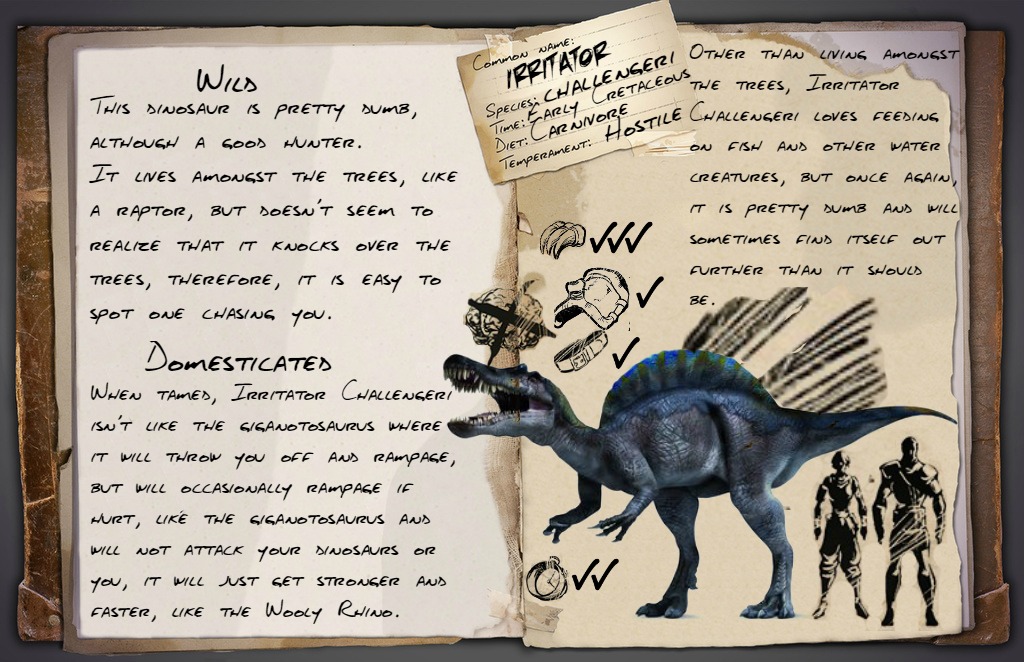 Source: http://steamcommunity.com/sharedfiles/filedetails/?id=664365571
Fanmade Dossier: Teratophoneus by Shadlos
Source: http://steamcommunity.com/sharedfiles/filedetails/?id=660814223
Fanmade Dossier: Sugar Glider by Seria602
Source: https://survivetheark.com/index.php?/forums/topic/4942-sugar-glider-dossier/
Community Contests
ARKitect
This is an award given to Survivors to celebrate the amazing structures you build. These bases are judged based upon a number of different factors such as their creativity, uniqueness, how fun of a base it is, the difficulty of building it, the functionality it provides and much more!
The ARKitect for Community Crunch 44 is..
Valoule for his Dino Coaster!
Album link:  http://imgur.com/a/jpbgk
Absolutely fantastic piece of work Valoule! Not a fan of roller-coaster but I'd definitely give this a go!
We'd also like to give an honourable mention to the following Survivor for their awesome arkitecture work!
Fresonis for his Big Suspension Bridge!
A very impressive arkitecture piece Fresonis! Looks like it would comfortably take a couple Gigas without collapsing
ARKArt!
This is an award given to survivors who have created beautiful work of art for that week! As always, the artwork is not being judged on the quality of the screenshot or the graphical settings used, but instead what you have managed to draw and produce in game.
The ARKArtist for Community Crunch 44 is…
± for his Clash of Monsters!
Super frightening, hoping to see one with all the bosses one day!
We'd also like to give an honourable mention to the following Survivor for their ARKArt!
Okim for his piece, I Lava you!
Based upon: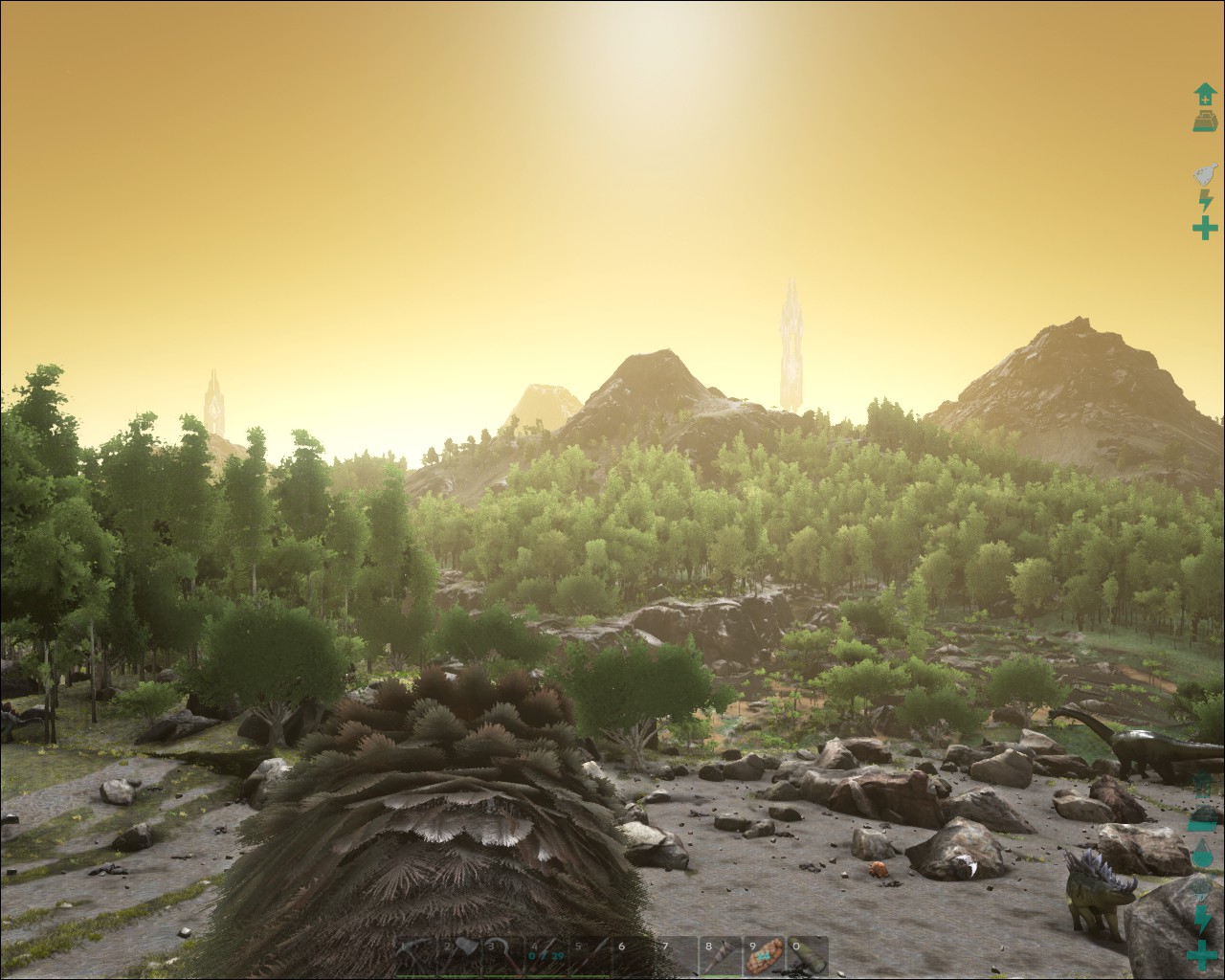 Love the name Okim! Fantastic piece
That's it for this weeks Contest guys! Thanks again for the wonderful entries and congratulations to all our winners, as impressive as always! For all the entries and all the screenshots, be sure to check out this thread:
Workshop Spotlight!
Hey Survivors, it's Ced here with Mezzo who created the Dino Racing Evolved Mod.  First off, congrats on making the top 10 in the mod contest!!  I know everyone here at the office was really impressed with your work.  So tell me a little about yourself!  What's a day in the life of Mezzo like?
Quote

Hey! Thank you, i'm really happy i made it into the top 10! I'm Mezzo, 28 years old from Germany. For the past few month my life has been pretty much focused on modding ARK to be honest. So a typical day would include working on my mods, helping out other modders on the ark modding forum or the discord and reading/watching lots of unreal engine tutorials ?
Awesome!  I haven't been to Germany! Will you be my tour guide!?!  A lot of people don't know you are part of the crew that manages the Discord chat.  Tell everyone a little about what inspired the channel.
Quote

I'll absolutely be your guide if you visit! The Discord channel came to life after the initial IRC channel didn't really take off. We first had a Slack channel with just a few very active modders in it but everyone was profiting immensely from the additional features the chat offered and direct contact to other modders. After a while we discovered Discord that offered a similar text chat with additional voice chat and a more community focused approach. We thought this would be the perfect format for the ark modding community and it's safe to say it is working out very well so far.
I'd agree, it has turned out to be one of the best modding resources I've seen so far.  So let's talk shop!  I'm a huge fan of your racing mod!! What was the inspiration for it and how much time have you invested into it so far?
Quote

The racing mod is an idea i had a while ago and it was really inspired by the posts/screenshots from the ark community about dino racing events people were doing on their servers. I thought it would be awesome to give server admins more tools to hold these events. I think i did my first experiments back in december last year, but the first approaches did not work out like i expected and i had other ideas to work on, so i put it on hold for while to work on other mods while learning more about how ark and the unreal engine work. With the contest coming up i thought about what kind of mod i could do that would offer something unique and i came back to the racing mod idea. With a little more knowledge this time and a different approach it worked out. The mod has gone through many different iterations since then and will probably continue for a while until I'm really happy with the result. I can't tell you the amount of time i have put into it honestly but it has been a lot.
Oh it's absolutely obvious how much time has been put into it.  It is loaded with features and functionality.  The ability to create your own race, laps, and customize when the race starts will go over really well with the community!  So you spoke about being happy with the mod, what are some of things you aren't happy with or some things you'd like to add?
Quote

There are a few areas that are still a bit rough around the edges. I want to polish the whole teleportation process to and back from the race. I really want to work more on the visual aspect of almost everything, especially the UI and the particle effects. A big area that needs more work is the sounds. Other than that i have plans to include underwater checkpoints, more pickups/abilities, more zones, more obstacles. Im also really interested to hear what users would like to see in the mod. Now that the basic systems work and got some testing i expect to be able to add new things pretty fast.
Well I'm sure we'll all be looking forward to it!  I suggest everyone go and give it a shot, you won't be disappointed!  All right Mezzo I'm sure we'll be chatting more in the Discord channel!  Oh!  I forgot to mention Mezzo is a "Dev Kit Master" - special recognition and thanks from WildCard.  Use your powers wisely ?  Any parting words for Wildcard or the community?
Quote

Thanks to Wildcard for this awesome game and devkit. It really opened up a whole new horizon for me! Thanks to all the other modders on the discord/forum. Special shoutout to MRRadioactiv who made the awesome checkpoint models for Dino Racing: Evolved(check out his mod!).
PrimitivePlus Developers Blog
Greetings fellow survivors.  
There's been a lot going on behind the scenes with the development of Primitive + but I'd like to take a few seconds to address a few things.
First, my sincere thanks to all the followers and support you've been showing! There have been some unresolved issues with the official servers that host Primitive +.  The servers aren't showing in the in-game browser even though they are, in fact, live.  Please do not think for a second that the server issues somehow mean Wildcard isn't supporting this mod anymore.  That can't be further from the truth!  The truth is that everyone here at the office is busy with PAX and making sure that it's the best experience for those that are able to check it out.  Unfortunately, that means some things have to take the back seat for the moment while we focus our efforts on the show.  Bear with me as I reorient myself and prepare to release a pretty epic update.
The next update will include many things that have been requested and a lot of touch-up work on the existing models.  As I finalize some of the art I will look to refine the balance (resources, damage) on the custom additions and work to include a class-based system that allows for specializations.  Be sure to keep an eye on the official Trello board as many bigger gameplay changes are in the pipeline.
Be sure to follow me, @complexminded, on twitter for the most up-to-date information and report any bugs/issues you are seeing.  Talk to you soon!
Ced.
That's it for this week's Crunch guys! As always if you've got anything to share please get in touch and be sure to follow us on Twitter at @survivetheark - Facebook at www.facebook.com/survivetheark and Reddit at www.reddit.com/r/playark
Thanks everyone!
All the best,
Wildcard Jat and the ARK Survival Evolved Team & Survival of the Fittest Team.
Edited by Jat
---